Summertime Fun!
Laughing Waters at Wigwam is a zero-depth water spray ground and splashpark. Its main features are the Curtain of Water and the Aquaspine. There are 12 fountains of various shapes and sizes and plenty of water toys. With the splashpark there are two playgrounds adjacent to the water park which include climbing equipment and picnic tables, and of course, bathroom facilities.
Laughing Waters requires no lifeguard because there it is zero-depth. This is worry free summertime fun. The water is treated (no chlorine)and filtered just like a swimming pool. All ages enjoy the activities that a splashpark has to offer.
If anyone is interested in using Laughing Waters for an upcoming event please see the office. The park is available weeknights and weekends May through October. The minimum use time is one hour at $100.00 and $75.00 for every additional hour. Students of the Wigwam Day Care School, The Wigwam Academic Day School and The Children's Cottage are given first priority.
Contact Us
Need to reach out to us? Looking to enroll your child in our classes? Please use the form below and we will get back to you as soon as possible!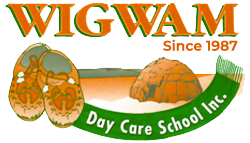 873 Harleysville Pike, Harleysville, PA 19438
© 2021 Wigwam Day Care School, Inc.  |  Site: BCG