Mission Statement
Our goal at Wigwam Day Care School is to provide affordable care in which our dedicated staff provides loving security. The children enjoy a healthy environment which allows discovery of self and others through safe, nurturing and educational guidance. Our desire is to strengthen the foundation of the family unit by providing an extensive support system.
Our objective is to set individual attainable goals with your child which will meet these four areas of development.  At Wigwam Day Care School we believe the key to reaching these goals is security.  Feeling secure is our top priority and it is crucial that there is a lot of love and communication between both our staff and our parents.  Our approach will never separate guidance and care, learning and loving.
School Philosophy
The Philosophy of the Wigwam Day Care School is holistic. As we grow day to day we develop emotionally, socially, physically, and intellectually. These four basic factors are interwoven and although as times we concentrate on one, we realize that they are never completely separate.
These attributes cannot be learned "virtually", therefore part of this philosophy includes the absence of all electronic devices in the classroom. The availability of "screen time" at home provide the time they need to master their use under their parents guidance. Educational DVD's are used for brief schedule times during transitional periods and are limited and monitored by the administration.
Why the name "WIGWAM Day Care School?" We are a "Day Care" because we are licensed by the Pennsylvania Department of Public Welfare to provide safe care of a child during the absence of a parent. We chose "Wigwam" because this region of Southeastern Pennsylvania is rich in American Indian culture – the Algonquin Indians to be specific.  The Algonquin were nomadic, and wigwams were, in a sense, portable.  This meant that the Indians could have a sense of "home" even though they were often on the move.
It is for this feeling of "home away from home" as well as the heritage of this area that the name "Wigwam" was chosen.  However, the uniqueness of the Wigwam Day Care School goes far beyond its name.
We provide services at this facility without regard to your race, color, religious creed, handicap, ancestry, national origin, age, sex, or LEP.
To help ensure and protect your child's privacy, we deliberately choose to not have pages on any social media platforms.
To view our day care regulations, please click here.
Testimonials
We are so grateful that we have our twins in the infant room at Wigwam Daycare! We are comforted knowing that the teachers love and care for our kids as if they were their own. In our time at the daycare, we have seen all of the teachers and director go above and beyond in how they play with our babies, talk about them, and focus on their heath and safety. We are looking forward to our kids growing at Wigwam!
– Carrie and Zach M.
My kids are excited to go to Wigwam in the morning and come home talking about all the fun they had each day. They especially love the outdoor playground and water park, art projects, and special holiday events. I can tell the teachers really care about the kids, and vice versa my kids love their teachers and talk about them regularly. We've been there for almost 4 years, and I trust that at Wigwam my kids are being cared for physically, emotionally, and intellectually.

– Alana G.
In 2020, I pulled my 2 boys from a previous daycare and enrolled them in Wigwam Daycare. This was the best decision I made for them. The staff at Wigwam are warm, always smiling and very communicative. My boys are happy to go to school as we always receive a warm welcome come drop off time. Since my children have joined Wigwam, they have improved socially, emotionally and academically.
I can't believe the songs, crafts, photos send to me, and friendly reminders to bring their snow clothes because they will also make sure your child gets some fresh air and time for sledding during these snowy days. I love Wigwam and most important, so do my children.
– The Nakos Family
I just wanted to tell you my child loved eating outside today….he was so excited explaining how his day was. The other day he was telling me about the drill they had. He really loves it there and comes home and we ask what he did and he is always so happy. So I thought I would tell you and spread the joy he receives, and we receive (hearing about his busy days) and send it right back where it started! Keep up the great work Team Wigwam!
– Maria T.
Contact Us
Need to reach out to us? Looking to enroll your child in our classes? Please use the form below and we will get back to you as soon as possible!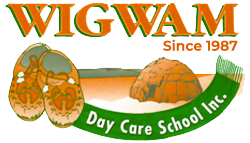 873 Harleysville Pike, Harleysville, PA 19438
© 2021 Wigwam Day Care School, Inc.  |  Site: BCG